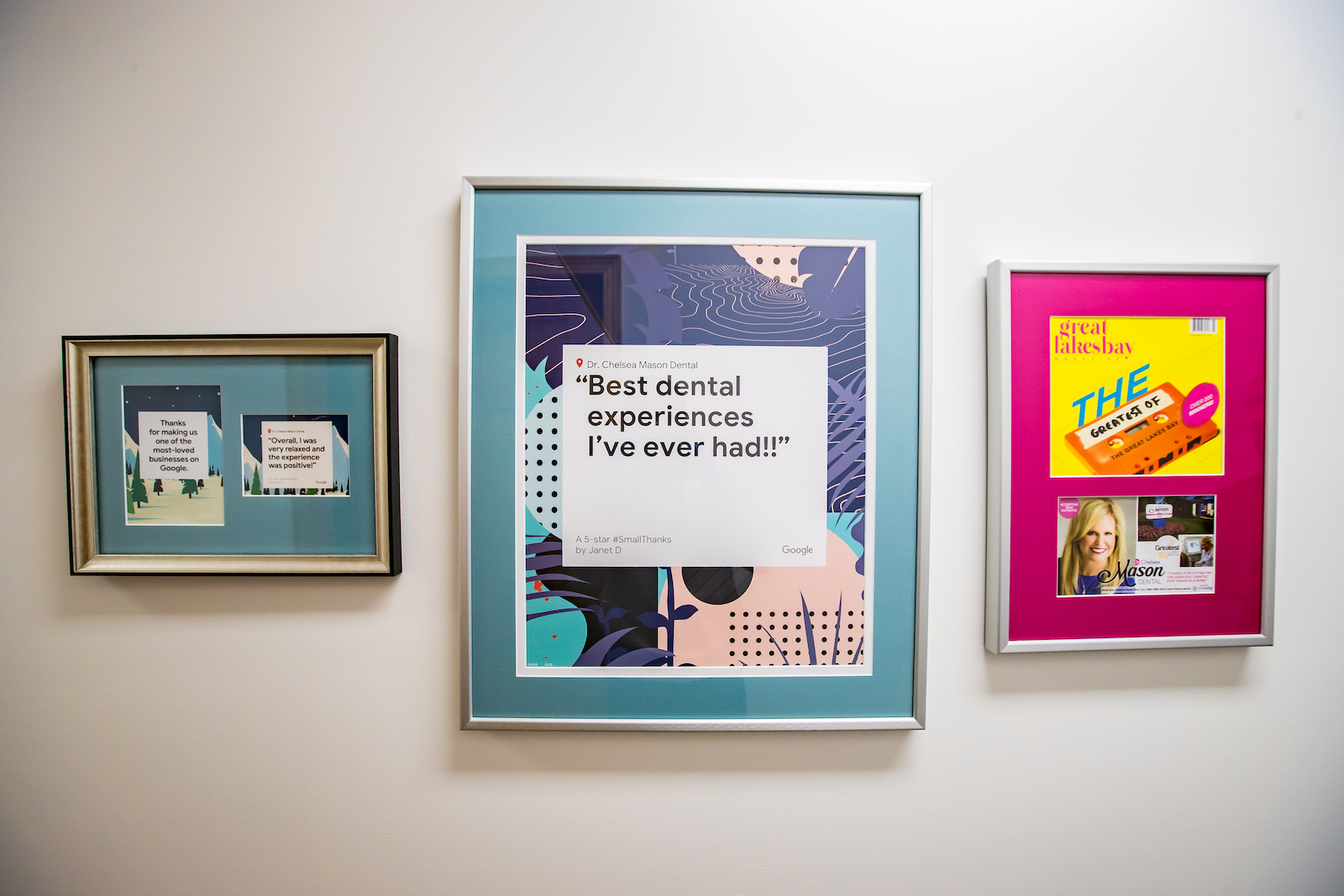 At Dr. Chelsea Mason Dental, we love welcoming new patients into our practice. From the very first visit, we establish a family-like ambiance that reassures patients and sets the stage for long-term relationships. We address the issues necessary to make sure all of our patients are comfortable, and we take the time to get to know you and your expectations.
Highlights of our practice include:
Relationship-based family atmosphere
Specialty care and personalized treatment plans
Team longevity (You will see the same smiling faces each time you visit)
No-rush, relaxed appointments
Punctual appointments, we respect your time
State-of-the-art office and equipment
Digital X-rays for lower radiation exposure
Intra oral cameras for a comprehensive view of your mouth
Emergency calls addressed quickly and efficiently
Trustworthy, high-quality local lab usage
Convenient location (3433 East Midland Road, off of Euclid Avenue and near I-75 and US-10)
My team and I are eager to provide you with the highest quality of dental care in a gentle, courteous and professional manner. Together, we'll work to get you the right treatment, at the right time, which maximizes your benefits and at a pace you're comfortable with. That's our promise to you.
What our patients should expect of us:
Kind, comprehensive and considerate treatment in pleasant surroundings
Constant postgraduate study to keep abreast of the most modern techniques in dentistry
Constant upgrading of equipment and instrumentation
Respect for our patients' time in scheduling appointments
The very best we have to offer in care, skill and judgement
What we ask of our patients:
Cooperation in the carrying out of instructions relative to treatment or preventive dentistry
Respect for other patients, as well as our time, by being prompt for appointments
Realize that all x-rays and other diagnostic procedures are necessary to achieve our objective of the best dental health for you
Take care of fees for services when due, or as agreed upon at the beginning of treatment
Being good "dental missionaries" when the appropriate occasion arises, so that we can have another nice patient like you
Lack of communication causes more problems between people than any other single thing. We want to serve you in the best way possible, and we welcome the opportunity to discuss any facet of our relationship with you.
We hope that reading this will enable you to have a better understanding of what we are trying to do and how you, as one of our valued patients, fit in the picture.
Please call our office today to have your questions answered and to schedule an appointment! We look forward to meeting you.
---
New Patient Forms
Before your first appointment, you will need to complete forms detailing your medical history so we can safely and effectively treat you.
You will need to arrive at least 15 minutes early to your appointment to complete these forms, or you can fill them out below. Please complete each form as thoroughly as possible. You may then print off the forms and bring to your first visit.
---
Your Privacy is Important to Us